We Care
We not only care about people, we also care about our planet.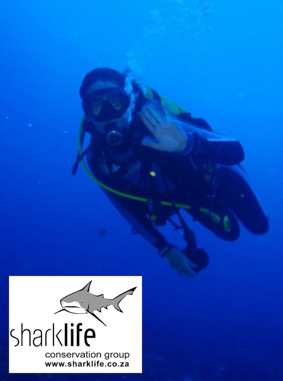 Supporting Shark Conservation
As one of the top ocean predators, sharks play an important role in the food web and help ensure balance in the ocean's ecosystem. Relative to other marine fish, sharks are characterized by relatively slow growth, late sexual maturity, and a small number of young per brood. These biological factors make many shark species vulnerable. Several shark species are already listed as 'Endangered' and 'Threatened' under the Endangered Species Act.
As an avid shark diver and a lover of marine life and our oceans, the Sharklife Conservation Group is a cause that lies close to my heart.
I have been a contributing member of this group since 2016 (membership# MN00-3552). To verify membership, visit: https://www.learn.sharklife.co.za/index.php/membership-menu/member-list

About the Sharklife Conservation Group
Established in 2005 as a non-profit organisation, Sharklife addresses the alarming exploitation of both shark populations and ocean fisheries in South African waters. They actively engage the urgent need for research and protection of many marine species. (Company Registration No. 2005/002273/08. Non- Profit Organisation No. 064-326-NPO)
Sharklife conducts long term research projects aimed specifically to improve the conservation and management of shark populations in South Africa. The research findings are provided to managers who may use the information to support or develop regulatory frameworks going forward. All their data collection methods are non-invasive, nor harmful to the animals they study, there is no catching, handling, or feeding of sharks on their projects.
The Sharklife Research Station is situated in Sodwana Bay bordering the iSimangaliso Wetland Park which includes South Africa's largest coastal marine protected area. All research is conducted with permission from, and in collaboration with, the iSimangaliso Wetland Park Authority under specific research agreements.

Support a shark conservation project
In order to sustain research efforts ongoing funding is needed to cover operational and equipment costs, if you would like to support these projects visit the Sharklife site and become a member or participate in their shark research fundraisers.
https://www.sharklife.co.za/index.php/resources/raggie-donations